Physical therapy or physiotherapy is a health care profession primarily concerned with the remediation of impairments and disabilities and the promotion of mobility, functional ability, quality of life and movement potential through examination, evaluation, diagnosis and physical intervention carried out by physical therapists or physiotherapists and physical therapist assistants or physical rehabilitation therapists or physiotherapy assistants.
Our physiotherapists are healthcare experienced professionals, highly educated, who will assess and advise a program of treatment to restore functional mobility and quality of life for patients with physical impairments or disabilities on the one hand; and for patients after arthroscopic reconstruction of sports medicine injuries, such as anterior cruciate ligament reconstruction on the other hand.
Physiotherapists work with individuals to prevent the loss of mobility before it occurs by developing fitness and wellness-oriented programs for healthier and more active lifestyles, providing services to individuals and populations to maintain and restore maximum movement and functional ability throughout the lifespan. This includes providing services in circumstances where movement and function are threatened by aging, injury, disease or environmental factors. Functional movement is central to what it means to be healthy.
The Importance of Rehabilitation after Orthopedic Surgery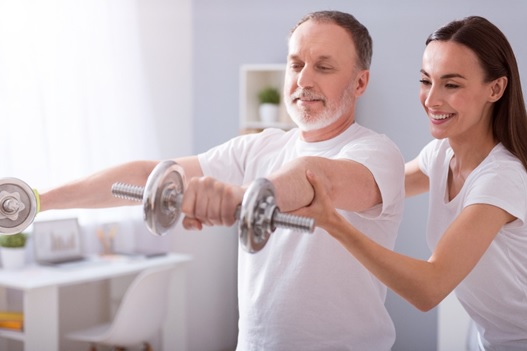 Recovering from Orthopaedic Surgery can sometimes require a team of physicians and professional that are well versed in the individual needs and requirements of orthopedic procedures. Many times after Orthopaedic Surgery the patient will be assigned a rehabilitation team that will work closely with the Orthopaedic Surgeon and other related physicians to help the patient achieve movement and motion.
The length of time that a patient may require rehabilitative care depends upon many things. The speed with which the patient is able to see results and success as well as the severity of the injury will both have an impact on the length of time that rehabilitation is needed. Patients that have had particular Orthopaedic surgeries such as total joint replacements such as the hip or knee, reconstructions of the ankle, elbow or knee or spinal surgeries will all need post-surgery rehabilitation. Patients that have had rotator cuff tears as well as laminectomies, meniscectomies as well as total shoulder replacements will also work in conjunction with their treating Orthopedic Surgeon and the rehabilitative team.
The therapist is able to observe where the weakest parts of the patient's body are and assist the patient to build strength. The aim of the rehabilitation therapy sessions is to provide the patient with enough range of movement and strength to be able to complete tasks independently. Once the patient is based in their own home environment they will then continue on with home based exercises as well as motion and range building programs that will allow the injured site to heal the most satisfactorily. The Orthopedic Surgeon will re visit with the patient at intervals post-surgery to gauge progress and determine success of the procedure.